The most expensive piece of real estate is the six inches between your right and left ear. It's what you create in this space that determines your success.?
A growth mindset is listed as #1 on my list of things needed to drive your success. There are four things needed, in order of importance to create any outcome:?
#1 – A growth mindset?
#2 – A solid game plan?
#3 – Skills – selling & marketing skills?
#4 – Enabling tools and resources??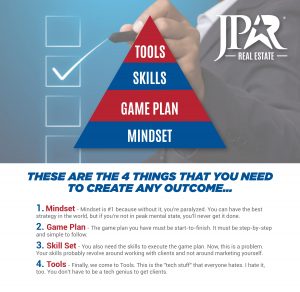 A growth mindset?
Our mindsets exist on a continuum from fixed to growth, and although we'd like always to have a growth mindset, the reality is that we can pivot back and forth. The goal is to recognize fixed mindset elements in ourselves and then adjust along the way. Progress not perfection or said another way continuous improvement.
You can have the best game plan and strategy, yet if you aren't in a peak performance mindset, the obstacles will be harder to overcome.???
"You only have control over three things in your life —?the thoughts you think, the images you visualize, and the actions you take. How you use these three things determines everything you experience." ~ Jack Canfield
A solid game plan?
A game plan tells the you the what, the how, the when, and the why of achieving a stated goal. A game plan is all about taking control of – designing not reacting – to the business.?
At JPAR, we use the business mastery module of the real estate playbook that start with:?
How many consumers do you want to serve??

How many conversations do you need to create one appointment, and how many appointments are required to create one Sale??
First, we get our associates to stop and think; second, write it down; and third, to be logical. Business is just math; for example: how many conversations are needed to create one new appointment??
Selling and business operations skills
You will need the skills to execute your game plan. One of those skills is effectively automating, delegating, or eliminating parts of the business that aren't in your zone of genius. Like the 15 hours of paperwork required in the average transaction, we find it best to delegate that to a coordinator like www.jpartc.com so you can work on prospecting, appointments, and negotiations.??
Inc. published a study of the five critical skills needed for business success:?
#1 Selling and marketing skills?
#2 Planning and lead generation skills?
#3 Customer service skills?
#4 Communication skills (www.jparcode.com)??
#5 Curiosity?
When the only limit you have in your skills is what you can imagine and apply, just about anything is possible.?
So many of us are trained to think hard work is all that is required. Hard work is essential, yet without adequate sleep, a good diet, exercise, and time away, our productivity is not optimized.?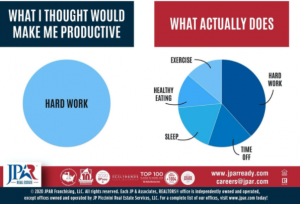 Enabling tools and resources??
I could give you a Ferrari, yet if you did not have the skills to compete in the race, you'd lose or, worse yet, crash!
JPAR just rolled out a clear differentiator called Sure Sale – www.jparsuresale.com – it's an innovative approach that allows the consumer to choose traditional selling, trading, or a buyout. For the last nine years, we've also provided the industry-leading CRM tool to our agents, kvCore.? Yet consider this:?
A carpenter's skills don't change when he switches from a hammer to a pneumatic nailer. You hire him for his building skills, not the number of hours he's spent swinging a hammer.

A writer doesn't forget everything she knows just because she switches from a typewriter to a computer, changes from a yellow legal pad to a Moleskine notebook, or even switches favorite brands of pen. You read her books because she knows how to tell a good story.

Computer programmers don't lose their skills and experience just because they got a new computer.
That's why our JPAR training program reinforces these five factors in order of importance:?
#1 – A growth mindset?
#2 – A solid game plan?
#3 – Skills – selling & marketing skills?
#4 – Enabling tools and resources??
It's great to have aspirations, yet it's crucial to take significant actions. If you want to have a better outcome, guess what? You will have to hold yourself accountable to take the steps that move the needle.?The five steps outlined here will ensure you achieve any outcome you desire.?
What actions are you committed to taking??